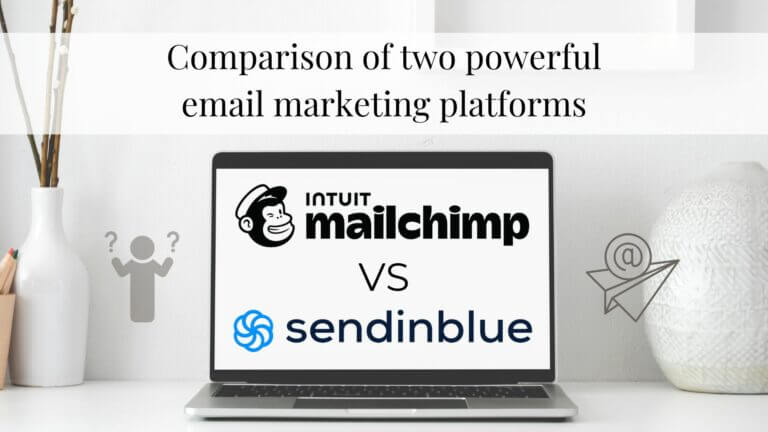 Today, the effectiveness of email marketing campaigns is no longer to be proven. Whether you are an entrepreneur, a freelancer, or a marketing director of a multinational or a start-up, you will have to choose among all the platforms so that each newsletter hits your target.
Mailchimp and Sendinblue are the two that come up most often in the list of the best email marketing tools, but the price differences between the two are notable, and there is enough to get lost among all the features offered.
Which email marketing platform will win the Mailchimp vs. Sendinblue match?
Presentation of the two email marketing platforms
Mailchimp, in Uncle Sam's country
Let's start with the world's number 1 email marketing company, the one everyone knows, Mailchimp. Created in 2001 in Atlanta, this email marketing tool was originally intended for small businesses. Since then, the company has grown! In 2020, 14 million users worldwide sent more than 333 billion emails. Today, Mailchimp defines itself as a marketing platform that goes beyond emailing: Instagram ads, postcards, websites…
Sendinblue, the little Frenchie that's rising
Let's make room for a serious competitor of Mailchimp, Sendinblue. This French company was founded in 2012 in Paris. Its credo? To offer small and medium-sized businesses the same marketing tools that large companies use. To date, it claims over 400 000 active users across 180 countries.
Interface
Mailchimp: fun at first glance
At first glimpse, Mailchimp's dashboard is quite playful. But I must admit that I was a bit annoyed by the design and ergonomics. All the main features (campaigns, contacts, automation, integrations…) are represented by icons in a long side menu. OK, the essentials seem to be there but it's a bit of a mess, and it's hard to find your way around. Some subcategories are even a bit hidden, like the creation of landing pages or registration forms. Moreover, the reports and all the tools to detail them could be really clearer and more visual. Verdict: it's a bit confusing.
If you are new to email marketing, Mailchimp requires some time to adapt. In short, I liked the visuals but not at all the ergonomics…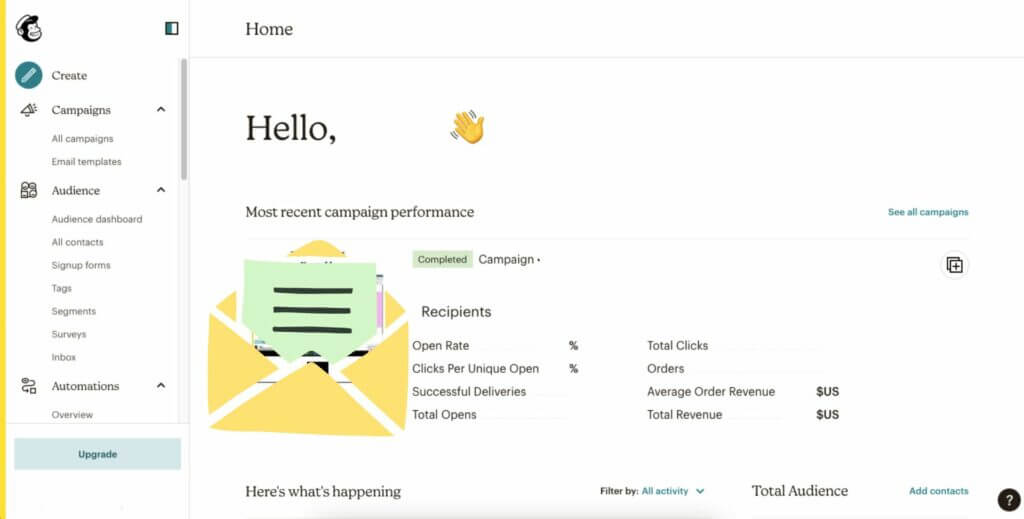 Sendinblue: when sobriety rhymes with efficiency
Sendinblue has chosen a sober and simple interface. Few colors, no drawings, and no mascot… The main features are represented at the top in a horizontal menu. In our case, there are 5: campaigns, automation, transactional, contacts, and add more applications. In each category, you will find the associated tools listed in a column on the left.
Depending on your needs, Sendinblue's interface is modular. Indeed, if the CRM or the management of conversations via chat or social networks are useful to you, you will just have to activate them to see them appear in the horizontal bar. This way, the dashboard is not "polluted" by tools you don't need.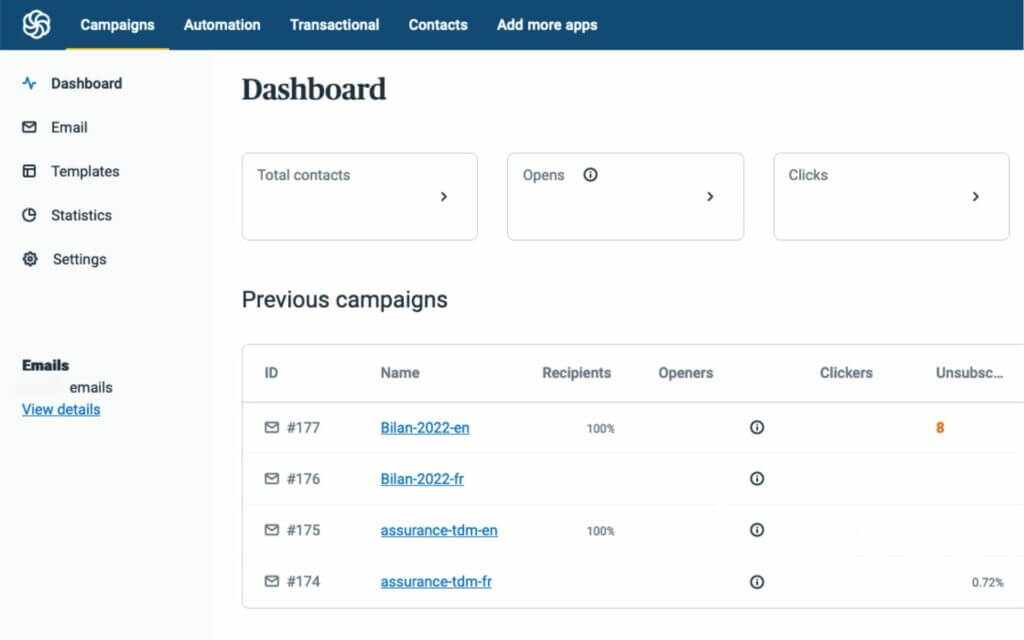 In the end, at Sendinblue, everything is in black and white, nothing is hidden and everything is organized in a fairly logical way. The point is for Sendinblue.
Features of these email marketing platforms
Let's get to the heart of any good email marketing platform: features. You know, the ones that will make your future campaigns look great! Mailchimp and Sendinblue both offer the import of contact lists, segmentation (groups of contacts generated according to certain conditions), drag and drop with all the necessary blocks to create a relevant and attractive email, automation to set up scenarios (sending a welcome email after registration…), the creation of landing pages, forms, A/B tests, reports to analyze the impact of campaigns, CRM, etc.
As you can imagine, there are small differences, otherwise, this article would not be necessary. Without further ado, let's take a look at the unique features of both email platforms.
Mailchimp's specific features
Creation: Mailchimp is truly a creation tool for marketing purposes, used to do more than just send a newsletter. By clicking on the Create button, you will be able to choose between 10 media to let your imagination run wild: campaign, automation, advertisement, survey, post for social networks, postcard, and even website… However, their utility depends on your needs.
Optimization and behavioral targeting: In addition to analyzing your newsletter, the company suggests modifications to be made by comparing it with millions of proven benchmarks. You're sure to create an impactful campaign!
Integration: Mailchimp offers the integration of 316 applications and services against 64 for its French competitor. Apart from the number, the big difference lies in the fact that the American tool can integrate really any type of application. It goes from Twitch to Shopify through Canva and WordPress to give you an idea. Sendinblue, on the other hand, limits itself more to core marketing applications, leaving out (for now) social networks and authoring tools.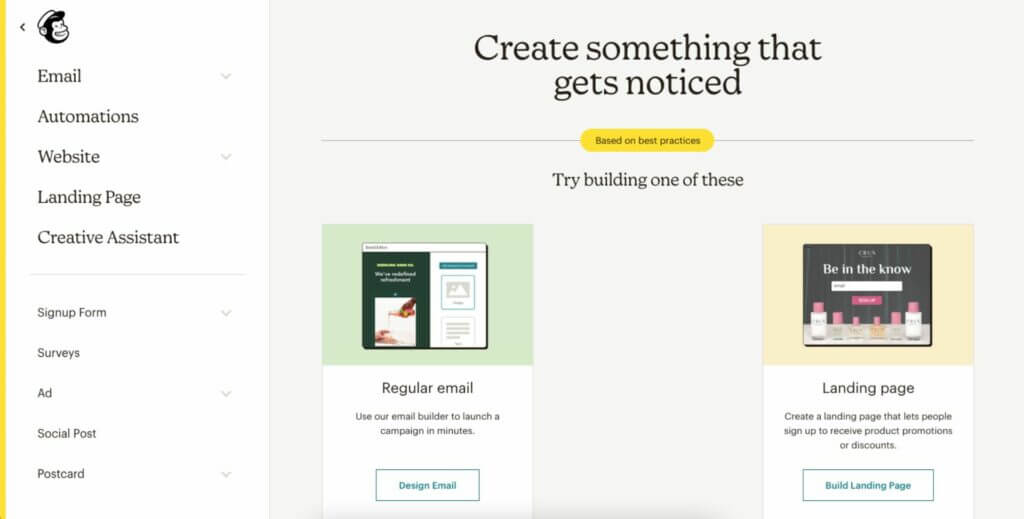 Specific features of Sendinblue
Advanced automation: At Sendinblue, regardless of the price you choose, you will have access to automation and all its options. The scenarios (predefined or developed from scratch) will be used to optimize your customer relations and promote conversions. For example, schedule a welcome email for readers who signed up for your newsletter, then another one two days later to present your services.
Advanced segmentation: As with automation, Sendinblue offers advanced segmentation regardless of the offer subscribed to. This function creates groups of contacts when they meet certain conditions. For example, one group with readers who speak a certain language, another with those who always open your campaigns. Therefore, segmentation is very useful to send targeted and personalized campaigns to your contacts.
SMS and Whatsapp campaigns: Sendinblue has decided to offer SMS and Whatsapp campaigns, with the same parameters as emailing: automation, segmentation, detailed reports… Although these services are not included in its packages, the French platform proposes an pay as you go offering: SMS credits (per 100 SMS) and Whatsapp (per 1000 messages).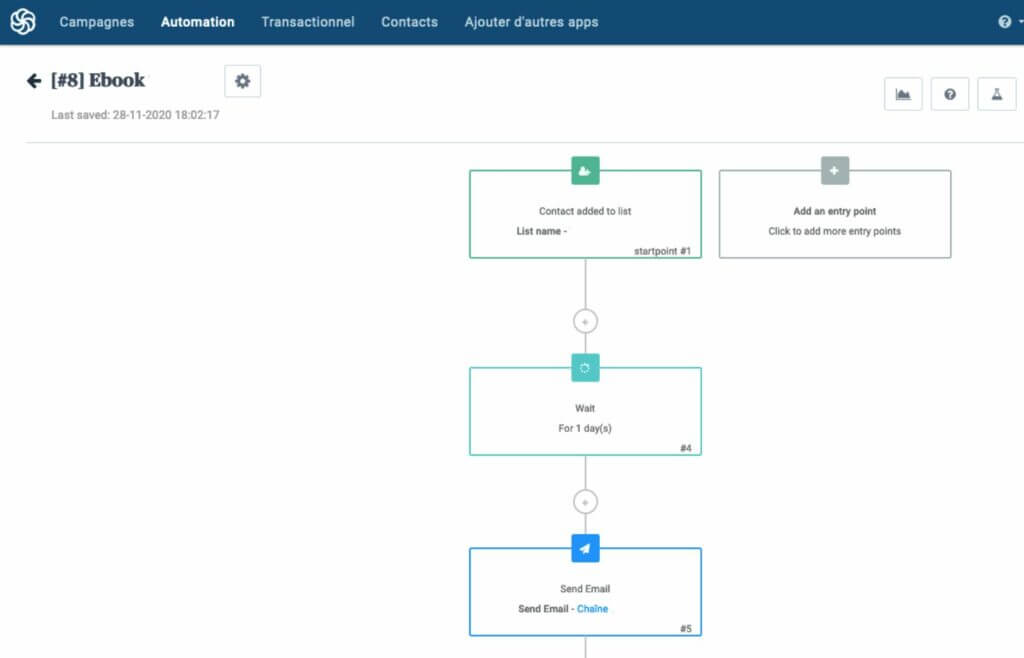 On this point, it is difficult to separate the two platforms, because the features will depend on your needs and the budget you want to give to email marketing. Draw between Mailchimp and Sendinblue. To know the differences between the packages of each tool, go to the bottom of the article 😉!
Deliverability
Deliverability is fundamental in email marketing. It's a bit like SEO in web copywriting: what's the point of making killer content if it can't be read? Deliverability refers to the ability of an email to reach the inbox of your contacts without landing in spam. However, it depends on several factors: the authentication of your domain, the reputation of your IP, bounces, unsubscriptions, messaging…
Sendinblue offers a dedicated IP unlike Mailchimp and its shared IP. The disadvantage of the latter is the sharing of reputation between different customers. In concrete terms, if other users do not respect good emailing practices, your reputation and therefore your deliverability suffer. The main advantage of the dedicated IP is to be in control of your reputation and to directly adapt your sending practices according to your performance. Nevertheless, the efficiency of the dedicated IP is only true for a large number of emails sent. This can be a disadvantage for "small" customers who send irregularly or less than 3000 emails per day.
A study compared the deliverability in 2022 of 15 email marketing platforms with identical settings. The result? Sendinblue's deliverability rate is 90% versus 85,9% for Mailchimp. In other words, 14,1% of emails sent by Mailchimp do not reach the inbox and go to spam or other categories (promotions in Gmail for example) against 10% for its French competitor. These are as many campaigns that can not be potentially opened by your contacts…
An advantage for the French platform!
Language
Another point where the difference is noticeable is the language! An online tool can be very intuitive, but if you don't understand much, it can cause some problems from the start…
If you are an English speaker or fluent in English, then Mailchimp will have no secrets for you. Indeed, the American email platform is only available in English. However, most of its tutorials are translated into several languages to make it easier to learn: French, Spanish, German, Italian, and Portuguese. Therefore, it takes a little time to adapt to Mailchimp if you are not fully bilingual.
On this parameter, Sendinblue platform has a head start. In addition to English (US and UK, yes!) it is available in 5 languages: French, Spanish, German, Italian, and Portuguese.
No doubt having a tool in your native language or in a language you master helps to tame the beast. Thus, you save time and therefore efficiency from the beginning. Sendinblue has a point!
Pricing of the two email marketing platforms
OK, now we come to a sensitive subject, money. This is often what makes the difference between Mailchimp and Sendinblue, although there are other points of comparison as we have seen previously. So, how much does it cost to use an email marketing platform? Both Mailchimp and Sendinblue offer several packages, one of which is free. Yes, but…
At Mailchimp, the rates vary depending on the number of contacts, whether they are. Then, for a given number, you have the choice between 4 packages depending on the number of emails you want to send per month.
At Sendinblue, the price is independent of the size of your contact list. Here, the price list is simplified and established according to the desired features.
Let's take three examples to show you the price differences between Sendinblue and Mailchimp. I have deliberately omitted the most expensive formula, reserved for large companies for obvious reasons…
The free plan
The free plan at Sendinblue is limited to 300 emails per day, while that of its American competitor is valid for 500 contacts with a maximum of 1000 emails per month (and 500 per day maximum). On the one hand, Mailchimp offers the creation of landing pages and Facebook publications. On the other hand, Sendinblue offers advanced segmentation, transactional emails, automation, and 24/7 email support. Otherwise, the basic features offered by both email marketing platforms are the same.
Mailchimp
Sendinblue
Free plan
500 contacts max
1000 emails/month et 500/day max
Behavioral targeting
Website creation
Creation of landing pages and ads on social networks
300 emails/day
Unlimited number of contacts
Advanced segmentation
Advanced automation of up to 2000 contacts
Transactional emails
Email support
You have 5000 contacts
At Sendinblue, the price will depend on the useful features according to your company. You will therefore hesitate between the 19 euros formula and the 49 euros formula with no limit of emails per month. Between the two, the difference is significant. The 49 euros package gives you access to more powerful tools such as A/B tests, unlimited automation, detailed reports of e-mailing campaigns, etc. Therefore, I don't think it's too much money for you to test, analyze and automate your emails to make your email marketing campaigns even more relevant and effective.
The prices of the American company are not quite the same. You can choose between a package at 65,90 euros for 50 000 emails and 95,51 euros for 60 000 emails sent per month, with the first month free. However, the difference between the two packages is "thinner" than its French competitor, because they both give access to all the essential features that we expect from an email marketing platform. If we compare in more detail, the more expensive offer includes 5 possible users instead of 3, access to predictive analysis, and campaign optimization. In short, it is more the 10 000 emails difference that justifies the 30 euros difference rather than the other "small" dispensable functions in my opinion …
Mailchimp
Sendinblue
5000 contacts
65,90 €
50 000 emails/month, 3 users, A/B tests, logo removal in campaigns, 24-hour chat support
95,51 €
60 000 emails/month, 5 users, content optimization, advanced automation
19 €
No daily sending limit, logo removal for 9 €/month
49 €
A/B tests, landing pages, unlimited automation, in-depth reports, chat support, logo removal
You have 15 000 contacts
For the French platform, the prices will be the same as in the example above: 19 or 49 euros?
At Mailchimp, you will have the choice between the 167,14 euros package for 150 000 emails per month and the other one at 210,12 euros for 180 000 emails per month, with the first month free and the same differences mentioned in the second example. Ouch…
Mailchimp
Sendinblue
15 000 contacts
167,14 €
150 000 emails/months, 3 users, A/B tests, logo removal in campaigns, 24-hour chat support
210,12 €
180 000 emails/month, 5 users, content optimization, advanced automation
19 €
No daily sending limit, logo removal for 9 €/month
49 €
A/B tests, landing pages, unlimited automation, in-depth reports, chat support, logo removal
What can we learn from these examples? That the more contacts you have, the bigger the price difference between Mailchimp and Sendinblue for similar tools. For 100 000 contacts, the prices are multiplied by 10 between the equivalent formulas of Sendinblue and Mailchimp… Moreover, in recent months, the latter has tended to increase its prices regularly… Not nice from the company branded with the monkey… The best value for money is therefore at Sendinblue.
Mailchimp vs. Sendinblue: pros and cons of at a glance
Before I reveal the verdict, I'll summarize the pros and cons of both email marketing platforms.
For Mailchimp:
| | |
| --- | --- |
| Pros | Cons |
| All-in-one platform | Tools not adapted to small businesses |
| Fun interface | Not very ergonomic interface |
| Many integrations | Deliverability can be improved |
| | Interface in English only |
| | High prices |
For Sendinblue:
| | |
| --- | --- |
| Pros | Cons |
| Clear and ergonomic interface | Few integrations |
| Advanced segmentation and automation | |
| Good deliverability | |
| Interface in 5 languages | |
| Very good quality/price ratio | |
So, Mailchimp vs. Sendinblue: which is the best email marketing platform?
You will have guessed the best email marketing platform between the two is Sendinblue in my opinion. Less expensive than Mailchimp, Sendinblue offers more or less the same thing and its user interface is clearer. Apart from the price, the differences are really in the details, the importance of which clearly depends on the size and goals of your business. What about you, do you know Sendinblue?
This article contains affiliate links to services we use. When you use our links, you won't pay anything extra, but we will get a small commission. In this way, you support the creation of this kind of free and independent guide. Thank you for your support!
Pin it