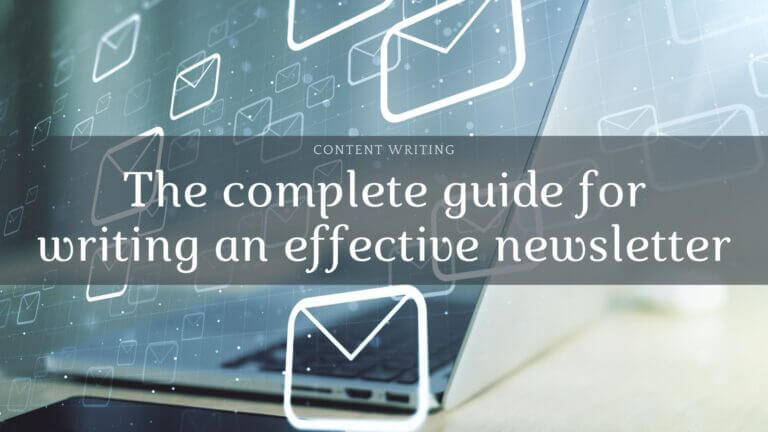 A true communication tool with an informative purpose, the newsletter still has a bright future ahead of it. However, it is not about writing and sending a message to your contact list. The goal is still to have your email opened, read and clicked by your contacts. To avoid that sadly falling into the oblivion of a mailbox, I give you all the tips to write an effective newsletter!
The difference between newsletter and email marketing
Newsletters and email marketing are essential communication tools for any business and entrepreneur today. However, it is important to differentiate between them to not fail your community.
The newsletter
The newsletter is a real information letter. Its purpose is to share your news with your list of contacts, answer recurring questions, provide relevant advice, etc. It is published regularly (daily, weekly, or monthly) and acts as an epistolary meeting between you and the recipients.
In short, the objective is to establish a close relationship with your contacts while keeping them informed in order to maintain your notoriety in an activity sector. For example, with our site Novo-monde, we send a monthly newsletter, following the publication of a new article or to evoke our projects as well as our hikes and/or trips carried out since the last newsletter.
Email marketing
Email marketing is the same as the newsletter, but with the addition of a marketing component, as the name suggests. Its main goal is to sell, whether it is a service or a product. The contacts are thus segmented into lists, defined according to their desires, their interests, and their behavior. The purpose of email marketing is therefore to send a relevant and targeted email, always to encourage a purchase.
Very often, email campaigns use marketing automation, an automated email chain. For example, we will send an email to follow up on a customer who left the site without validating his cart or to welcome new subscribers and then offer them a discount or a resource in a second email. However, the newsletter fits perfectly between the pages in this scenario, to build loyalty and consolidate a reputation. And yes, do you want to open and read a soulless email that sees you as a walking wallet rather than a human?
Ideas for writing a successful newsletter
Before you start, make sure you have a clear idea of the message you want to convey. Always think of added value: what can you offer to your readers and why did they sign up for your newsletter? It is about:
giving advice: providing the solution to a problem, sharing a list of relevant tools and resources, going into more detail on a particular point of an article, developing the worst advice you could give, deconstructing a preconceived idea on a topic…
tell a story through storytelling by sharing anecdotes, the history of your business, an interview…
inspire and motivate: promote a service, relay a new blog post, do a case study, bounce off the news…
Through your lines, you must show that you are an expert in your area while creating a link with your contacts. Forget the cold and insipid newsletters worthy of robots and think of the human above all. Even if you are addressing tens, hundreds, or thousands of people, this newsletter must touch each of them in some way.
A little tip: use a conversational tone by imagining you are writing directly to someone you know well and reading it out loud.
The subject line of a newsletter
This is where your future is at stake (or almost)! Indeed, the subject line is the first contact you will have with your audience and it is what will make them click (or not) to open your email. Even if the content is impeccable, a too-basic subject line will not incite them to click and the chances that your lovingly written newsletter will be read will go away… Bye-bye added value! You must therefore take special care.
Here are a few tips for writing an attractive and striking subject line:
Ideally, it should be 40 characters long, not including spaces. The longer it is, the more likely you are to lose your reader. As we read more and more our emails on mobile, the text of the subject line will be truncated.
Address the reader directly, and call out to them. "Make the right choice…", "Everything you need to know before…", "5 tips for your…".
Start the object with a call-to-action to involve your contacts right away: "Discover", "Find", "Train yourself", etc.
Be careful with the choice of words! Some terms, called spam words, send your newsletter directly to spam and will lower the deliverability rate of your future emails. We come back to this important notion at the end of the article. Among the sensitive subjects, we find money (debts, credits, free of charge), promotion (free, gift, exceptional offer), incentives (click here, register, order), health (lose weight, Viagra, aging), and gambling (casino, poker). As you can see, using them would be shooting yourself in the foot! This also applies to the rest of your email.
Don't neglect emojis, they will support your message. Use them sparingly, the goal is not to decipher a possible message but to make the object more attractive and dynamic.
Ask a question: this highlights a problem your contacts are facing and invites them to open the newsletter to get the solution. "How to succeed in your trip around the world?", "Why do you need…".
Use storytelling to give a mysterious side to make them want to discover what happens next: "This is the end of an adventure", "We shouldn't have…".
Use numbers and figures: "5 questions to ask yourself before…", "The tip you need to know to…".
The content of a newsletter
Once the newsletter is opened, most readers will prefer to scroll the page looking for something that will catch their eye rather than reading it from A to Z. Thus, the headlines, the layout (images and emphasis) and the buttons are the elements that will roughly summarize your newsletter for the most hurried. However, this is not a reason to botch the rest! Let's focus on the structure and content of a newsletter.

The greeting formulas
At the beginning of your newsletter
Did you know that it can be personalized with the first name of the contact? Email platforms offer a personalization that you can slip anywhere in your newsletter. A "Hello Helen" will have more impact than a simple "Hello". The reader feels directly recognized and concerned because you are addressing him directly. This little extra increases the opening rate by 11%, a performance indicator that we will talk about below.
At the end of your newsletter
Just before the signature, try to write a greeting that sets you apart from the others while keeping the essence of your company.
The body of the text
In terms of form, the ideal is to write the main idea in the first lines before the waterline, the virtual limit of your newsletter. Lighten your text with several paragraphs composed of short sentences. To make it more pleasant to read, don't hesitate to use bold, italics, or bulleted lists.
As far as the content is concerned, it must be in line with what you announce in the subject line at the risk of suffering a wave of unsubscribes. Do you want to provide tips in a particular area? No problem, just think about the fact that these tips must be relevant and applicable immediately so as not to leave your contacts frustrated. Keep in mind that you only cover one topic for clarity and to keep the readers' attention.
An important aspect of writing to consider is the emotion evoked in readers. Remember, you need to build trust with them and what is more human than feelings? The goal is not for the text to be full of adjectives, but to distill here and there words that hit the spot when you tell a story.
Finally, one last important point to consider is English! Spelling, grammar and syntax mistakes will discredit any company. To avoid tarnishing your reputation, read your texts out loud and use a spell checker.
Newsletter and mobile
Newsletter and mobile
At a time when about 50% of emails are read on smartphones, think about the ergonomics of your newsletter on a computer but also on a mobile. Email tools give you the possibility to change the shape, size, and layout according to the support on which it will be read.
The call-to-action
The call-to-action (or CTA) is an essential component of any newsletter. To omit it would be to miss a chance to bring traffic to your site or your latest article. In a newsletter, CTA often takes the form of a button or a link. Just like the email subject line, its title must be clear and directly address the readers: "Discover", "Read"… Depending on the length and the objective of your newsletter, you can distill several of them throughout the text.
The images
It's well known that humans are visual and prefer a picture to a long paragraph. In addition to the visuals that define your identity in the header and footer of the email, attractive images can make a difference if they are wisely chosen to support the text. Moreover, don't forget to write their alt attribute which will be displayed in case of a loading problem and to add a link to bring back traffic to your site or your latest articles for example. The use of GIFs can also be reasonable if it corresponds to your image.
How to check the effectiveness of your newsletter?
Once your newsletter is written and sent, you need to make sure that it is opened, read, and clicked. This gives you an idea of the effectiveness of the message you want to convey and thus of the improvements to make for the next time. But how do you do this? You probably use an email platform to write your emails to your contacts. Go to the statistics section of your platform. There, you will find several performance indicators, called KPI (Key Performance Indicator).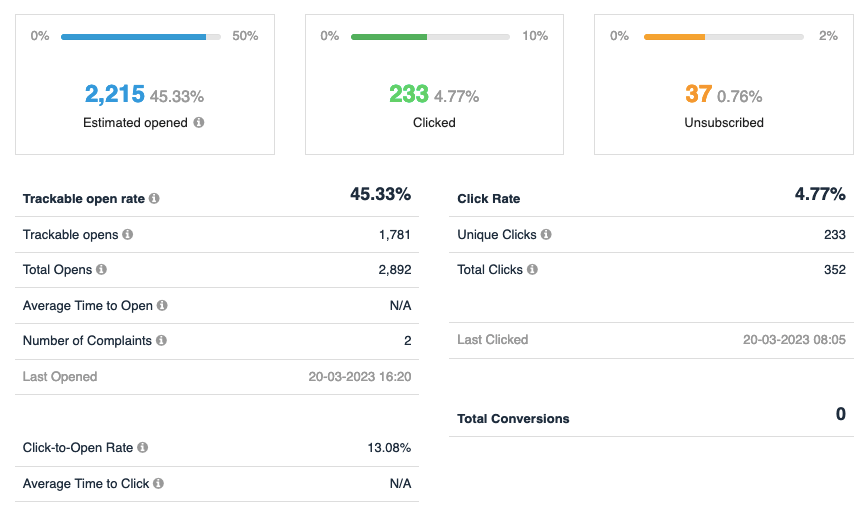 Deliverability rate
The deliverability rate of an email corresponds to its capacity to reach the inbox of the recipients. It depends on you, the sender (address linked to your domain name, application of authentification protocols), your contact list (wrong addresses, consent), and also on their behavior (inactivity, reports as spam). If this rate is well below 99%, it is time to sort your contacts, check your registration form by encouraging double opt-in and make a possible link with the unsubscription rate.
Open rate
The open rate is the number of emails opened compared to all those delivered. Thus, it is directly influenced by the subject line of the email. To give you an idea, the average open rate is 25,85%.
Click-through rate (CTR)
The click-through rate refers to the number of people who clicked on a link in the email to all those delivered. Here, this number demonstrates the interest of your contacts thanks to the relevance and the emphasis of the call-to-action. The average CTR is 1,27%.
Click-to-open rate (CTOR) or reactivity rate
This percentage goes even further because it combines the open and click rates. It is therefore the number of people who clicked on a link compared to all the people who opened this email only. This indicator reflects the engagement of the readers: the higher it is, the more you have succeeded in targeting the content of your newsletter. The average CTOR is 4%.
Unsubscribe rate
The last figure to look at after sending your email is the unsubscribe rate. These are all the people who unsubscribed after receiving your newsletter. The lower the unsubscribe rate, the better your emails are perceived and the more they fulfill their purpose. The average unsubscribe rate is 0,05%.
Which platform for writing an effective newsletter?
After all these good tips, you know how to write an effective newsletter to have an informed and engaged community! However… You are missing the essential: a good tool! For that, we compared for you the two most popular email marketing platforms: Sendinblue and Mailchimp.
Read the article on the match between Sendinblue and Mailchimp
If you're wondering how to integrate emailing or newsletters into your WordPress site, we've put together a complete guide for you! I bet your next newsletter will be a hit!
This article contains affiliate links to services we use. When you use our links, you won't pay anything extra, but we will get a small commission. In this way, you support the creation of this kind of free and independent guide. Thank you for your support!
Pin it