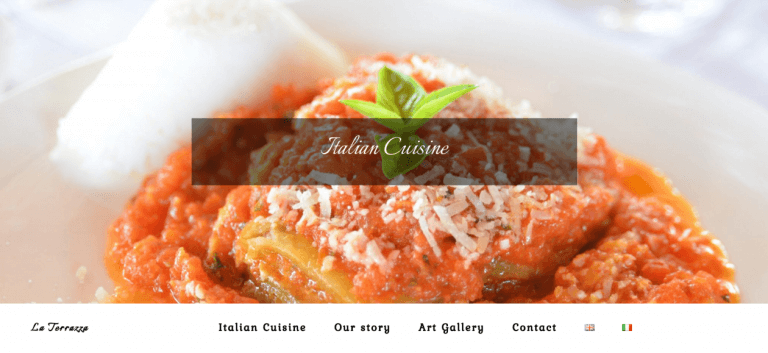 The Project
While traveling to Bagan in Burma we met Michel, the owner of several Italian restaurants in Bagan. He explained us that he would need a simple and easy-to-update website for his main restaurant. Even though we were officially "on a holiday" we had a great feeling about this project and accepted to start working on his new site.
The Result
We have developed a simple and uncluttered theme to highlight his restaurant and his art gallery part. As the site works with WordPress, its content is easy to update.
The site has been delivered in 2 languages (Italian and English). The texts were written by the restaurant team and implemented by us. We took care of setting up SEO as well as the content sharing optimization for social networks.
Of course, the site is perfectly adapted to navigation on tablets and mobiles.
As part of this project we also took care of the domain name and the implementation of hosting servers.
Our services in details
At setup
Site architecture elaboration as well as graphical design definition
We went to the restaurant to discuss the project and take some pictures to be used on the new site
Definition of the strengths of the establishment and recommendations on the content to be put forward
We took care of buying the domain name
The development phase
Custom Theme creation to match the graphical requirements
6 content pages were creates. Each page was created both in English and in Italian using the texts provided by the customer
On each of these pages we took care to optimize them in terms of SEO by filling in all the information such as meta description, meta tag and taking care to define an optimized url.
On all the pages we have also defined all the elements relating to social networks (shared image, text and titles)
Several image galleries were created
All images are optimized for SEO
Social Media and Trip Advisor integration
Site size and loading time optimization
Before public release we published the finished website on our development server and gave Michel access to it. We implemented all desired changes and modification
At launch
Production server setup
Website was put live
Creating a business account on Google and integrating Google Analytics
A detailed user manual was delivered. This manual included:

General infos about the website (how to edit existing content and create new content)
A detailed list of advice on how to improve further SEO
A detailed tutorial about how to use Google Webmaster Tool and Google Analytics
Total project duration: 1 month (between the first contact and the website release )
When? February 2017

When our company really needed a new website, we have been happy since the beginning to benefit from the skills of Fabienne and Benoit. Novo-Media is dynamic and surprised me several times by its quick understanding of our needs and expectations. The suggestions they gave me, as the work progressed, were each time relevant and corresponded perfectly to the spirit of our company. I also liked their quick follow-up which allowed us to set up our site within the deadlines. we would also like to mention their total reliability during the work and in the "after-sales service". Professionalism - pragmatism - creativity, what more do you want as a business owner? ... unbeatable prices? Yes. Value for your money, difficult to find any better!
Michel Fonteyne-Leitao – Director at « La Terrazza » Restaurant – Bagan – Myanmar